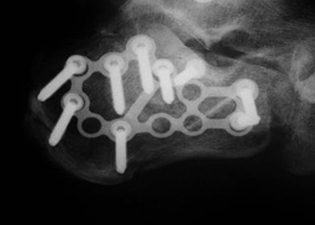 Overview
The plantar fascia is connective tissue on the
sole
of your foot. When the arch of the foot is not properly supported, the plantar fascia can stretch and pull away from the heel area. When the plantar fascia pulls away from the heel, calcium deposits form in its absence. These calcium deposits are called heel spurs and can be very painful.
Causes
A heel spur usually develops as a result of wear and tear over time, which leads to the degeneration of connective tissue called fascia. Standing for prolonged periods and wearing shoes that do not provide the right type of arch support can also lead to connective tissue damage in the heel. The body attempts to repair the damaged tissue by delivering calcium to the affected region, but sometimes too much calcium begins to accumulate and this results in painful plantar fasciitis.
Symptoms
Heel spurs can be quite painful, but can just as likely occur with no symptoms at all. Plantar fasciitis is a contributing condition to heel spurs. The cause of the pain is not the heel spur itself but the soft-tissue injury associated with it. The feeling has been described as a knife or pin sticking into the bottom of your feet when you first stand up after sitting or laying down for a long period of time - a pain that later turns into a dull ache.
Diagnosis
Sharp
pain localized to the heel may be all a doctor needs to understand in order to diagnose the presence of heel spurs. However, you may also be sent to a radiologist for X-rays to confirm the presence of heel spurs.
Non Surgical Treatment
Acupuncture and acupressure can used to address the pain of heel spurs, in addition to using friction massage to help break up scar tissue and delay the onset of
bony
formations. Physical therapy may help relieve pain and improve movement. The Feldenkrais method could be especially helpful for retraining some of the compensation movements caused by the pain from the spur. Guided imagery or a light massage on the foot may help to relieve some of the pain. Other treatments include low-gear cycling, and pool running. Some chiropractors approve of moderate use of aspirin or ibuprofen, or other appropriate anti-inflammatory drugs. Chiropractic manipulation is not recommended, although chiropractors may offer custom-fitted shoe orthotics and other allopathic-type treatments.
Surgical Treatment
Sometimes bone spurs can be surgically removed or an operation to loosen the fascia, called a plantar fascia release can be performed. This surgery is about 80 percent effective in the small group of individuals who do not have relief with conservative treatment, but symptoms may return if preventative measures (wearing proper footwear, shoe inserts, stretching, etc) are not maintained.
Prevention
If you have
not yet
developed this condition, you can take steps to protect yourself from it. Most importantly, make it a rule to wear properly fitted footwear. Avoid shoes that have become worn down in the heel, and don't choose shoes that cause you to walk in an abnormal fashion. Maintaining a healthy weight will ensure that undue pressure isn't being put on the ligaments, tendons and
bones
of your feet. If your job requires a great deal of time on your feet, or if you exercise regularly, be sure to balance periods of activity with periods of rest for your feet.